Hager-Richter Conducts Geophysical Survey at Liberty Island
Hager-Richter Geoscience, Inc. was awarded a contract from the National Park Service to conduct a geophysical survey across most of Liberty Island in New York Harbor, home of the Statue of Liberty.
The purpose of the survey was to detect areas that might contain archeological artifacts in the subsurface.
Three complementary geophysical methods were used at Liberty Island: electromagnetic induction (a.k.a. terrain conductivity), magnetics, and ground penetrating radar.  H-R worked closely with archeologists and historians from the National Park Service in the interpretation of the data, since Liberty Island had been occupied on and off for centuries before Miss Liberty took up residence
Numerous interesting "anomalies" were found including possible buried objects, filled depressions, disturbed ground and possible former ground surfaces. Formal archeological excavations will continue for years to come.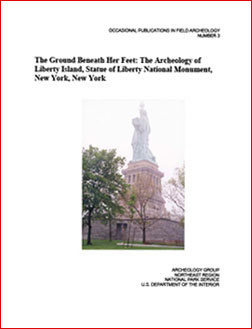 Click to read the National Park Service Report: The Ground Beneath Her Feet
Save
Save